Veterans and Military Families
Maximize your military education benefits with flexible associate degree programs from a Top 20 online college for veterans. (Source: Military Times, 2022 Rankings)
Go further with:
Credits for military training

Get a headstart on your degree with up to 12 college credits for your military training and service

Military education benefits

Fund your education with GI Bill® benefits, Yellow Ribbon Program, and tuition assistance


Earn Your Degree from a Veteran-Trusted University
Degrees+ is designed for active-duty service members, reservists, veterans, and their families. Join a vibrant community of 1,000+ military students and learn on your schedule from anywhere in the world with 24/7 online access. In as little as 19 months, you'll earn an associate degree from Golden Gate University (GGU) and a job-ready certificate. Or, transfer your credits to save time and over $20,000 on your path to a bachelor's degree vs. the national average 4-year tuition (Source: NCES).
Approximate length:

2 years or less

Plus

Professional Certificate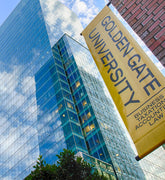 In 2 years, graduate with an accredited associate degree, earn a career certificate from a top company like Google or IBM, and join a 68,000-strong alumni network, including veterans and service members from all branches.
Don't overpay for college.
| Institution | Cost per credit | Accredited Degree | Professional Certificate |
| --- | --- | --- | --- |
| | $199 | | From top companies like Google |
| American Military University | $250 | | |
| Penn State World Campus | $362 | | |
| Arizona State University Online | $561 | | |
A student experience unlike any other
A judgment-free learning environment

Experienced evidence-based tools designed to support learners of all ages and backgrounds:

• Adjustable playback speed: Speed up or slow down lectures like your favorite podcast app.

• Searchable transcripts: Search for a word or topic and jump right to that chapter.

• Mastery grading: Take quizzes up to 5 times and pick your best score.

• Guided notes: We've pre-taken lecture notes so you can focus on the lecturer, not your notepad, but we've left a few key details blank. (It's proven to help you retain what you learn.)

Flexibility for your life

Learn on your own schedule anywhere in the world, with lectures and course materials available 24/7, plus weeklong exam windows.

Experience cinematic on-demand lectures, interactive evidence-based learning tools (no textbooks), and 1:1 coaching to help keep you moving forward.

We've hand-picked brilliant and approachable lecturers from top schools like Harvard, MIT, and Cornell, so you know you're getting the best education possible.

We've got your back

Need support?

Specialized coaches will help you navigate the transition into higher education, overcome any challenges along the way, and prepare for civilian careers.

Connect with 1,000+ military students in dedicated virtual spaces.

1:1 tutoring is included with all math, accounting, and writing courses.

Instructors are available in regular office hours. Plus, each course includes discussion channels for classmates to discuss the material and network.
Frequently asked questions
GGU's programs are approved for the following tuition benefits for qualifying veterans:

• Chapter 1606 Montgomery GI Bill®: Selected Reserve

• Chapter 30 Montgomery GI Bill®: Active Duty

• Chapter 31 Veteran Readiness and Employment (VR&E)

• Chapter 32 Veterans Educational Assistance Program (VEAP)

• Chapter 33 Post 9/11 Tuition/Fees & Yellow Ribbon Program

• Chapter 35 Survivors' and Dependents' Educational Assistance

• Active Duty Tuition Assistance

Last year, over 1,300 students used their GI Bill® benefits to save money on their education at GGU. (Source: VA) Visit the GI Bill® website or call 1-888-442-4551 to see if you qualify.

Golden Gate University has been a proud member of the Yellow Ribbon Program since its inception in August 2009. In fact, GGU is in the top 15% of US colleges and universities who have committed to a large grant to the Yellow Ribbon Program for veterans to start or complete their educational goals.

Absolutely! Both service members and dependents find the flexibility and career outcomes they're looking for in Degrees+. With many military spouses facing underemployment or unemployment, Degrees+ can help them gain in-demand skills and credentials to level up their career or re-enter the workforce—from anywhere in the world they happen to be.

Eligible military spouses and dependents can qualify for a variety of financial assistance, including:

• up to 36 months of education benefits through the GI Bill®

• up to $4,000 of tuition assistance with a Career Advancement Account Scholarship (MyCAA)

• federal grants and low-interest loans by submitting the FAFSA (Your tuition could be fully funded if you qualify for the average Pell Grant!)

Golden Gate University has a proud legacy of educating military students since 1918. From programs for returning WWI veterans to on-installation programs for active-duty service members, GGU has served students across all branches. Now, with Degrees+, military students can earn a college degree fully online, no matter where they're stationed. Military-connected students make up almost 1/3 of GGU's student population.

The Helen Diller Center for Veterans of US Military Service at GGU offers specialized support for military students and alumni. Strategic career management services can help you identify transferable skills for civilian positions and communicate the value of your experience to employers. Plus, with resume and cover letter reviews, mock interviews, networking opportunities, and confidential career counseling, you'll be well prepared for any career you choose.

All US students age 13 or older with a high school diploma or equivalent (GED, CHSPE) are eligible to apply, except for residents of: Alabama, Arkansas, D.C., Delaware, Georgia, Maryland, Minnesota, New Hampshire, New Mexico, Rhode Island, Wisconsin, US Commonwealths (Puerto Rico, Upper Mariana Islands), and US Territories (Guam, American Samoa, US Virgin Islands).

As long as your permanent address is in an eligible state, even if you're stationed in one of the states listed above, you should still be eligible.

No textbooks or additional materials are required! Everything you need for Degrees+ is included within our custom learning management system.

A 14-week standard course has an estimated 10-20 hours/week time commitment. This includes watching the recorded lectures, using the interactive textbook, completing readings, using practice sets to test your learning, and taking each section quiz.

We make it easy for you to transfer credits, so you can pick up where you left off. Golden Gate University will accept up to 45 transfer credits to count toward the associate degree. Our enrollment counselors will help you track down your transcripts from up to 5 institutions and ensure you get the most transfer credits possible, including:

• Military certifications, training, and education evaluated by the American Council on Education (ACE)

• DANTES Subject Standardized Tests (DSST)

• Up to 12 credits for previous work experience or military service (1 year of uninterrupted active duty military service)

• Previous college credits from accredited schools

Tutoring sessions will be scheduled to maximize compatibility with students' schedules and availability. Exams and writing assignments (when applicable) are each open to take for a set window of time (usually several days); however, all other course materials are available to you from the time the course opens through the end of the final exam window.

Yes, degrees from Golden Gate University are fully accredited by the Western Association of Schools and Colleges and nationally recognized by the US Department of Education.

Accreditation matters! It shows that schools are providing high-quality learning and demonstrating continual self-improvement. And it means the credits you earn will have a higher level of acceptance at other schools across the US, so you have more options for the next step on your academic journey.